🌊☀️LOOKING FOR A WAVE OF FUN THIS SUMMER?☀️🌊
Throughout the months of June and July the Juneau Public Library is asking you to participate in our FINDING FINN activity. Each week our librarians will be hiding a plastic Great White Shark named Finn somewhere in the Juneau city limits. This is what Finn looks like. Don't be scared…his bark is worse than his bite!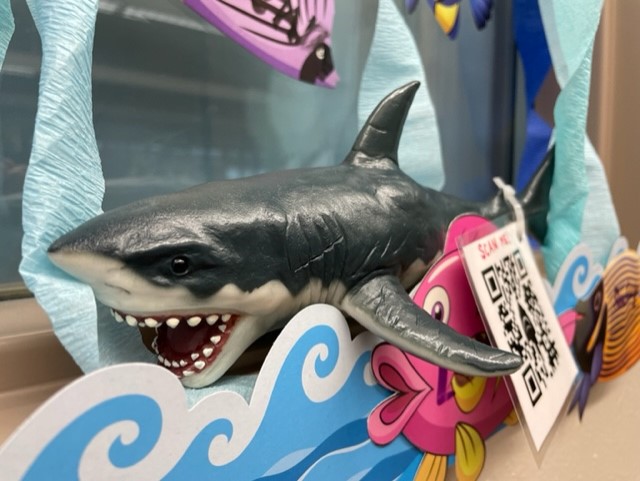 It's your job each week to find Finn. Once you locate Finn you need to scan the QR code attached to his tail. This will take you to an online entry form to fill out for a chance to win a "Feeding Frenzy" gift basket! This contest lasts 8 weeks, so you have the potential to find 8 different locations where Finn is hiding, which means you can enter the contest up to 8 times (one entry per person per week)!
Here's how to have fun FINDING FINN this summer!
🔍Check our Facebook page, our website, or stop in the library to view our photo clue of the day. There will be 5 clues posted each week (Monday-Friday) and the contest lasts for 8 weeks (June 6-July 30).
🔍Use the clues to determine where Finn is hiding.
🔍Make your way to the hidden location with a device capable of scanning a QR code (a smart phone or tablet with a camera will work).
🔍Scan the QR code on Finn's tail and answer the brief questions on the online form. If you have multiple people using the same device to enter the drawing for the FEEDING FRENZY gift basket, each person will need to scan the code separately and enter their name and contact information.
🔍All correct entries will be entered into the GRAND PRIZE drawing for the FEEDING FRENZY gift basket drawing to be held on Monday, August 1st.
WEEK #4 PHOTO CLUES (June 27-July 3)