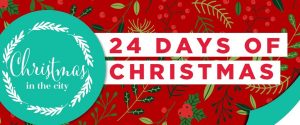 Join the Juneau Public Library as we celebrate the 24 DAYS OF CHRISTMAS!
Beginning on Saturday, December 1st, a Christmas story will be read by local citizen each day and shared three different ways for all to enjoy.
Option #1: A book reading video will be shared at 5:00 PM each day on the Juneau Public Library's Facebook page. https://www.facebook.com/JuneauWIPublicLibrary
Option #2: A book reading video will be uploaded by 5:00 PM each day on the Juneau Public Library's website. http://juneau.lib.wi.us/
Option #3: The Juneau Cable TV Channel 991 will air a book reading each day. Airing times will vary. Check out our Facebook page each day to find out the times each reading will be aired.
December 1: A Star So Bright: A Christmas Tale written by M. Christian Butler and illustrated by Caroline Pedler. Read by Bob Sweeney.
December 2: How Many Sleeps 'til Christmas written by Mark Sperring and illustrated by Sebastien Braun. Read by Karen Gibson.
December 3: A Cup of Christmas Tea written by Tom Hegg and illustrated by Warren Hansen. Read by Marianne Zastrow.
December 4: The Polar Express written and illustrated by Chris Van Allsburg. Read by David Beal.
December 5: How the Grinch Stole Christmas! written and illustrated by Dr. Seuss. Read by Catherine Knickelbein & Mitch Matuszeski.
December 6: Rudolph the Red-Nosed Reindeer written by Robert L. May. Read by Brittany Borchardt.
December 7: Bear Stays Up for Christmas written by Karma Wilson and illustrated by Jan Chapman. Read by Cathy Firari.
December 8: Santa's Underwear written by Marty Rhodes Figley and illustrated by Marty Kelley.  Read by Brett Meli.
December 9: The Smallest Gift of Christmas written and illustrated by Peter H. Reynolds. Read by Janelle Weibelhaus-Finger.
December 10: Snowmen at Christmas written by Caralyn Buehner and illstrated by Mark Buehner.  Read by Leslie Covell Hershberger.