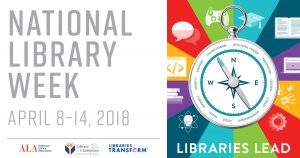 April 8-14 is National Library Week, an annual celebration of the life-changing work of libraries, librarians and library workers. During that week the Juneau Public Library joins libraries nationwide in celebrating the many ways libraries lead their communities through the transformative services, programs and expertise they offer.  Libraries aren't just places to borrow books or study—they're also creative and engaging community centers where people can collaborate using new technologies and develop their skills and passions.
Libraries of all types have long been evolving to meet the needs of the communities they serve. Diverse groups including elected officials, small business owners and students depend upon libraries and the resources they offer. Resources like e-books and technology classes, materials for English-language learners and programs for job seekers are just a few ways libraries and librarians are transforming to lead their communities. Community members can also develop their own leadership skills at the library, with endless opportunity to build skills and confidence through resources and programming.
The Juneau Public Library is celebrating the 60th anniversary of National Library Week by recognizing every 60th patron that walks through the library's doors during business hours April 9-14.  Each 60th patron will win a new release book or DVD from the recently purchased selection the library staff has chosen.  Our prizes were funded by a generous donation from the "Friends of the Juneau Public Library" group.
The library will also have an interactive display where our patrons can fill out a sheet answering the question, "Where did the library lead you?  Maybe it was a new passion…or a diploma…or a career change.  We'd love to hear from you on how you are using libraries to transform your life.  Check out the glass display case as you enter the library to see how the library staff at JPL have used the library to transform their lives.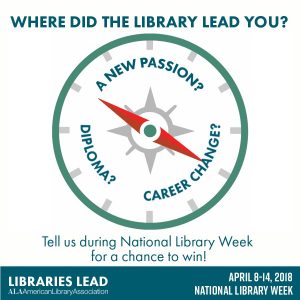 First sponsored in 1958, National Library Week is a national observance sponsored by the American Library Association (ALA) and libraries across the country each April.
For more information, visit the Juneau Public Library at 250 N Fairfield Ave in Juneau, call (920) 386-4805or see the library's website at www.juneau.lib.wi.us