"LIBRARIES ROCK" AND SO DO THE FRIENDS OF THE JUNEAU PUBLIC LIBRARY!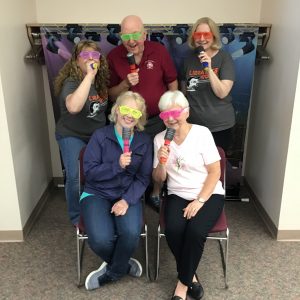 At the May 2018 "Friends of the Library" monthly meeting the new officers for the organization were elected.  The new officers had fun getting into the Summer Reading Program theme for Summer 2018, "Libraries Rock" during their photo shoot!
The Rock Star officers in the photo are:
(Back Row) Library Director, Jannette Thrane; Treasurer, Ray Abitz, Vice-President, Lisa Buhr
(Front Row) President, Sarah Lange; Secretary, Mary Abitz
The Friends of the Juneau Public Library are always looking for new members.  The Friends of the Juneau Public Library, Inc. was organized in 1991.  The group meets monthly on the first Tuesday of every month.  This volunteer non-profit organization is dedicated to promoting, supporting, improving, and expanding the library services offered at Juneau Public Library.  The Friends support family, adult, youth, and child-oriented programs and annually contribute to the Summer Reading Program, Children's Book Week, and National Book Week.  They also participate in special programs and projects through funding and the use of each individual's special talents and interests.
Annual membership dues are as follows:
$2.00       Child up to 16 years
$5.00       Individual
$8.00       Family Membership
$20.00     Contributing/Supporting Organization
$100.00   Lifetime Membership